Our program for grades 7–12 reflects the basic values and objectives of our church. Nurturing relationships among young people is our highest priority. Our program reflects this, emphasizing what we learn from the experience of being part of a Christian community. The teen years are a time when young men and women must make critical decisions about identity, belief, vocation, and commitment, and must seek meaning and personal affirmation. Our ministries take seriously these particular years and provide a supportive community in which young people can struggle with their own faith and life issues.
Our Junior and Senior High Youth Group welcomes youth in grades 7 through 12 from a variety of East Bay schools. The group, averaging 25 per meeting, meets regularly on Sunday evenings during the school year from 7 to 9 PM. Youth Group meetings focus on topics that are of interest to Youth and reflect our values as a community of faith, also including time for games and socializing. Youth participate in programs dealing with exploring personal identity, building relationships within the family and with peers, confronting faith issues, building and strengthening spirituality, developing a social conscience in the world, coping with stress, and making crucial decisions about sexuality and about the use of alcohol and other drugs.
Special Events
The program also offers youth opportunities for deepening friendships and in-depth discussions throughout the year at weekend retreats, excursions, parties, a youth program at Family Camp, and a summer Senior High Mission Trip. Youth engage in several fund-raising projects during the year to support the mission trip. Awesome photos are available on our Flickr page!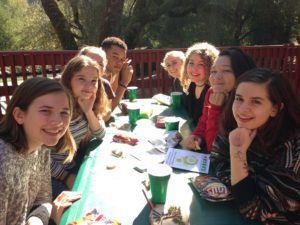 Leadership & Supervision
The Rev. Talitha G Aho, our Associate Pastor, is at each event with 2–4 additional adult advisors. The advisors are adult leaders who come from a variety of backgrounds. Many of these adults were once members of our Youth Group, and some have long years of experience as advisors. A select group of youth group members serves as the Leadership Team, meeting monthly to assess youth group participation and to set goals for future programs and events.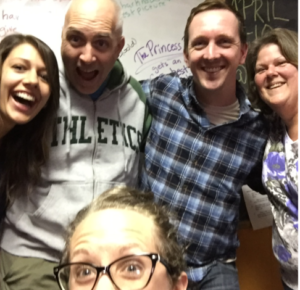 The Youth Say:
WHAT do you VALUE about youth group?
A place to relax
friendships and discussions
we get time away from home
the ideas that people bring
the variety of people who come here
a place to play
freedom of expression.
that I can be myself and have intelligent non-school related conversations
we can have in-depth discussions and play fun games and hang out with friends
WHAT is something UNIQUE about THIS group that you can't get or do with any other group? 
it's more youth run than many things
these friends are different than anywhere else
the amount of fun we have here
our leaders
opportunities to travel to fun places
the space is not about achieving but acceptance
the sharing, youth group is so friendly and nice
somewhere where everyone knows each other and can help you when you need help or need something
that we are a family–we accept you for who you are and what you think
youth group is a place where you can hang out and let your worries stay at home
togetherness, new friends =)
be myself, I love games and fun, the games and how everyone gets along, how open everyone is with each other
I value the acceptance of youth group and it's a safe place to bring  friends who are minimal on religion
having a place where I am inspired to love myself and others unconditionally
The bottom of this page is where we keep forms youth might need to download.
Calendar (updated monthly): here http://mpcfamily.org/youth-group-calendar/
Retreats (twice a year): here http://mpcfamily.org/children-and-youth/youth-group/youth-group-retreats/