One teenager in a skirt.
One teenager with a lighter.
One moment that changes both of their lives forever.
Thursday, Nov 16th at 7pm, join author Dashka Slater as she presents her book "The 57 Bus". The book tells the story of a shocking event that grabbed headlines around the world and irrevocably changed the lives of two Oakland teens. We hope you can join us for what is sure to be a challenging and thought-provoking talk.
About The 57 Bus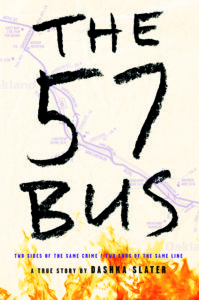 If it weren't for the 57 bus, Sasha and Richard never would have met. Both were high school students from Oakland, California, one of the most diverse cities in the country, but they inhabited different worlds. Sasha, a white teen, lived in the middle-class foothills and attended a small private school. Richard, a black teen, lived in the crime-plagued flatlands and attended a large public one. Each day, their paths overlapped for a mere eight minutes. But one afternoon on the bus ride home from school, a single reckless act left Sasha severely burned, and Richard charged with two hate crimes and facing life imprisonment. [..] The 57 Bus is Dashka Slater's true account of the case that garnered international attention and thrust both teenagers into the spotlight. (source: MacMillan Publishers)
About Dashka Slater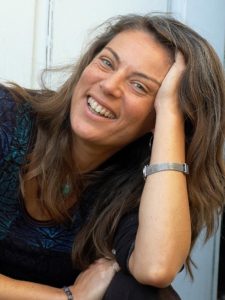 Journalist, novelist, and children's book author Dashka Slater has been telling stories since she could talk. Her novel for adults, The Wishing Box, was named one of the best books of the year by the Los Angeles Times, while her journalism honors include a gold Azbee, two Maggies, and a Media Alliance Meritorious Achievement Award, as well as awards from the Society of Professional Journalists, the Association of Alternative Newspapers, the California Newspaper Publishers Association, the California State Bar, and the National Council on Crime and Delinquency. She is a former "Who Made That" columnist for the New York Times Magazine and has written on topics ranging from competitive jousting to criminal justice. Dashka is the recipient of a Creative Writing Fellowship from the National Endowment for the Arts. (Source: DashkaSlater.com )
Read her New York Times Magazine article
Parking will be available in the lot at nearby Thornhill Elementary School (see below); more parking info and directions info are available on MPC's parking and directions page.