Join writer and journalist Katherine Ozment at MPC on Sunday, July 16th at 7pm when she presents her book Grace Without God: The Search for Meaning, Purpose, and Belonging in a Secular Age. Her book — both a Publisher's Weekly and Spirituality & Health "Best Books of 2016" — is an exploration of the search for meaning, ritual, and community in an increasingly secular America. The talk will be a dialogue between Ms. Ozment and Rev. Ben Daniel of Montclair Presbyterian Church. We hope you can join us for what is sure to be a fascinating and challenging talk.
About Grace Without God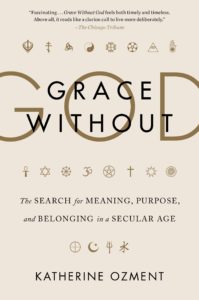 Meet "the Nones"—In this thought-provoking exploration of secular America, celebrated journalist Katherine Ozment takes readers on a quest to understand the trends and ramifications of a nation in flight from organized religion. […] Studies show that religion makes us happier, healthier and more giving, connecting us to our past and creating tight communal bonds. Most Americans are raised in a religious tradition, but in recent decades many have begun to leave religion, and with it their ancient rituals, mythic narratives, and sense of belonging. […] So how do the nonreligious fill the need for ritual, story, community, and, above all, purpose and meaning without the one-stop shop of religion? What do they do with the space left after religion? With Nones swelling to one-fourth of American adults, and more than one-third of those under thirty, these questions have never been more urgent. […] Writer, journalist, and secular mother of three Katherine Ozment came face-to-face with the fundamental issue of the Nones when her son asked her the simplest of questions: "What are we?" Unsettled by her reply—"Nothing"—she set out on a journey to find a better answer. She traversed the frontier of American secular life, sought guidance in science and the humanities, talked with noted scholars, and wrestled with her own family's attempts to find meaning and connection after religion. […] Insightful, surprising, and compelling, Grace Without God is both a personal and critical exploration of the many ways nonreligious Americans create their own meaning and purpose in an increasingly secular age. (source: KatherineOzment.com)
About Katherine Ozment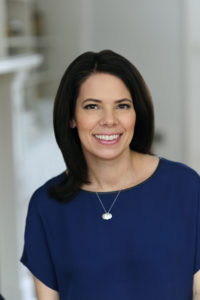 Katherine Ozment is an award-winning journalist and author of Grace Without God: The Search for Meaning, Purpose, and Belonging in a Secular Age. […] She has worked in publishing for more than twenty-five years, including as a senior editor at National Geographic, for which she once rode a donkey through the desert of Jordan and Israel on assignment. Her personal essays and reported articles have been widely published, including in such venues as National Geographic, The New York Times, Boston, Salon, and Fitness.[…] Born in Arkansas, she graduated from Harvard College with a degree in English and American Literature and received her Masters in Writing from DePaul University. She has lived on both the East and West coasts and now resides in Chicago with her husband, an environmental economist at The University of Chicago, and their three children. (source: KatherineOzment.com)
Parking will be available in the lot at nearby Thornhill Elementary School (see below); more parking info and directions info are available on MPC's parking and directions page.
Author photo credit: Elena Seibert