Sign up to volunteer!Buy tickets now!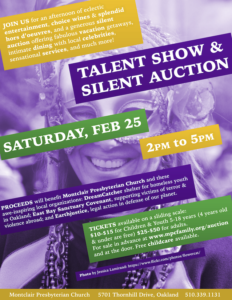 Join us on February 25th at 2pm for an afternoon of eclectic entertainment, choice wines & splendid hors d'oeuvres, and a grand silent auction offering fabulous vacation getaways, intimate dining with local celebrities, sensational services, and much more! A pre-event catalog of auction items is now available!  Click here: MPC 2017 Auction_ShortCatalog
 Jump to the full auction catalog
For more information on these travel opportunities click on these links:
Bed & Breakfast in Mendocino | Spacious Retreat in Inverness
Proceeds will benefit Montclair Presbyterian Church and these awe-inspiring local organizations: DreamCatcher shelter for homeless youth in Oakland; East Bay Sanctuary Covenant, supporting victims of terror & violence abroad; and Earthjustice legal action in defense our planet.
Buy Tickets Online!
Tickets available for secure purchase online by Visa or MasterCard. Credit card information will remain on file for use at the auction should you purchase auction items and will be deleted immediately thereafter. Tickets are sold securely via SilentAuctionPro. Click the button below to get started. You'll be asked to set up a quick account, with username and password, to keep your credit card info secure.**
**Credit card info is stored by Vantiv Integrated Payments, a leading credit card processor for businesses of all sizes. They offer fully PCI DSS compliant credit card processing using state-of-the-art encryption and security measures. As an extra precautionary measure, the MPC Auction Team will delete all credit card information from the Vantiv account after the auction.
Auction Volunteers Needed!
The auction could use your help! Please use the link below to go to SignupGenius and let us know how you can pitch in.
Full Auction Catalog
Click a link below to download details in PDF format.
Travel Opportunities
Amazing Experiences
Spectacular Services
Fine Wine
Crafts and Art
Home, Gifts, and Treats
Gift Certificates
Questions about the Auction? Please contact the Auction Team: Gretchen Garlinghouse, Claudette Hulce, and Suzanne Jones. Questions about the Talent Show? Please contact the Talent Show Team: Steve and Carrie McKiernan, and Dave and Laura Miller.