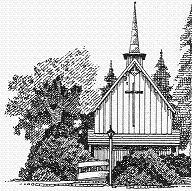 C O N T A C T August 05, 2009
————————————-
Montclair Presbyterian Church…
The Community Organizes and
Orders Its Life Through the Flow of Information
————————————-
THIS SUNDAY, AUGUST 9, our guest pastor will be Kevin Doty. He served as an Associate Pastor at Calvary Presbyterian Church in San Francisco for the past five years and is currently an at-large member of the San Francisco Presbytery. He will be preaching on "Seeking Mercy."
————————————-
CHILDREN'S SUMMER CHURCH SCHOOL CLASS SCHEDULE
Pre-school/K meets in room 6 every Sunday except Aug. 9 and Sept. 6. Grades 1-6 will meet in room 4 except Aug. 9 & Sept. 6.
————————————-
STAFF NOTES FROM SUSAN: What a blessing this job is and has been for me. I am poised between the Youth Group Reunion weekend of 10 days ago and the Youth Mission Trip which begins tomorrow.
So many wonderful memories and testimonials at our 2 alumni gatherings – the Saturday night party and the Sunday family picnic. You may have seen our article in the recent Montclarion. At these events many expressed their appreciation for the group that they felt had been instrumental in their being the people they are today. As teenagers it was the place where they were given freedom and responsibility, felt loved and supported, gained confidence and made lifelong friendships. As many raise their own children today, they said they are remembering the lessons and values they learned in the group. And now the children of these former members are beginning to attend the group as teens themselves.
And now on to the younger generation, our current senior highs, who will travel with me to Washington DC where we will volunteer in soup kitchens and homeless shelters for 8 days, as well as tour the sights in that interesting city. Our 15 youth and leaders will be staying at the Capitol Hill Presbyterian Church, as we participate in a program they have created to increase our awareness of the issues related to poverty.
I will be on vacation after the trip and will return to MPC Sept. 2.
————————————-
TOWNHALL MEETINGS: After celebration on Sunday August 9th, we will have the first of several town hall meetings to begin discussions around the budget for this coming year. We will meet in the Sanctuary at 11:20 and you can bring your coffee with you. We will have one or two more meetings if you cannot attend this Sunday. If you have questions, please contact one of the finance committee members (Al, Lee or Earl), or one of the Session members (Barbara, Marge or Shelley), or Leonard (lhnielson@eaarthlink.net).
————————————-
————————————-
ADULT EDUCATION ANNOUNCEMENTS:
LEW MUDGE will teach a class in the fall about his new book, available now in the Book Depot..
SENIOR AEROBICS continues through the summer! The one-hour class includes dance-aerobics, stretching and strengthening exercises. Classes will be held in the Family Room every Tues. and Thurs. at 9:15 AM. $3.00 per drop-in class. Beginning July 1, $35 for 2 months. Instructor: Marnie Hamilton. Bring exercise mat or towel.
WOMEN'S 2009 FALL RETREAT AT ST. COLUMBA'S RETREAT HOUSE IN INVERNESS: Autumn is a traditional time of harvesting what has been planted and tended. What are the results of your past year's intentions? Would you like an opportunity to step away from your normal routine and make a space in your psyche for God to clean out the clutter, and to reflect on what you hold most dear? If so, mark your calendar and contact Rebecca at the MPC office to reserve a spot at our third women's retreat. The retreat will take place on Saturday, September 26th from 9:00AM to 4:00PM .The retreat will be led by Marilyn Chandler McEntyre, poet and teacher. The cost is $40 and this includes lunch. Also, there are a few available accommodations at the retreat house for anyone wanting to come for Friday night. For more information email rebecca@mpcfamily.org.
THE DATE FOR THE "SOUL FORCE." ALL-DAY IS CHANGED TO OCT. 10. PLEASE CHECK YOUR CALENDARS. Engage participants and anyone interested in exploring the Engage experience are invited to an All-Day on OCTOBER 10, 9-4 in the Thornhill Room. The Peacemakers' Committee has requested Pace e Bene provide this opportunity to deepen the concepts and insights of this profound work in nonviolent thinking and action. This new workshop is entitled "SOUL FORCE". "Soul force" was one way Gandhi described nonviolence. He understood that nonviolent action must be grounded in each person's truth or "soul force." We will begin to work with deconstructing the beliefs hindering us from tapping into our personal soul force and evoking its power as we reach for our vision. Contact Mary Smith with questions and to reserve a place in the circle in the Thornhill Room on Oct.10th. The cost will be approximately $40 and we hope to have scholarships available, depending on the enrollment. NOTE: Mary's new telephone number is (925) 943 4986.
E-mail: smithmcam@yahoo.com
SUGGESTIONS FOR FUTURE CLASSES The Adult Education Committee welcomes suggestions for future classes from the congregation. Please contact any of us with your ideas. We promise to consider them and follow through where possible. Please contact Margaretha Derasary, John Hadsell, Rebecca Herrero, Tracy Livezey, Helga Mok, Marjorie Moser or Sloan White
————————————-
————————————-
ALL IN THE FAMILY
MEMORIAL FOR MALCOLM MCGREGOR will be held Saturday, August 22nd at 1:00PM. He requested that his memorial be held at MPC because of the fellowship he felt here. He was active in Ecostewards.
WARNING: CHANGE IN OAKLAND PARKING METER TIMES: Not only did parking meter rates go up to $2.00 per hour, new extended meter hours are now in operation from 8:00 AM – 8 PM Monday through Saturday. Meters have different time limits throughout the City and the purpose is to encourage parking turnover. Please check meters for the maximum time allowed for parking; staying at the meter over the maximum time allotted, including broken meters, is a violation of the Oakland Municipal Code and violators will be cited.
————————————-
————————————-
COMMITTEE ANNOUNCEMENTS
ART GANG EVENT: On Saturday, August 15, The Art Gang is having a mask-making class. Those members who plan to attend are limited to the 10 who said they were interested. No fee needed. Wear old clothes. George Somers will lead the class in the Family Room 10:00AM – until 12:00. Call George if you have any questions 510-339-8944.
CHILDREN, YOUTH & ADULTS are invited to send original stories, poems opinions & drawings the 10th anniversary edition of the Poets & Storytellers 2009 Anthology. Submit to Margaret Irvin (510-243-1114), copy-ready on white 81/2 x 11" paper, with your name and title. Black and white only. Typical themes are family, faith, nature, social & political comment, joys & worries. Deadline is September 13th.
SUMMER OPEN MIKE READINGS are moved to Sunday, August 23, 7:00PM. A special opportunity for children & youth to join adults in sharing original poems, stories & opinions – under 6 minutes –in our Thornhill Room. Sign up at the door to read.
SAVE THE DATES- Friday eve, September 25 and Sunday afternoon, September 27 for "The Apple of Nobody's Eye," Jean Gregory's original, one woman show about teaching in inner-city Chicago & Oaland
COME JOIN US AT OCO'S (OAKLAND COMMUNITY ORGANIZATIONS) summer retreat on "Fulfilling the Promise to our Youth: An Excellent Education For Every Child in Oakland." The new OUSD Superintendent of schools, Dr. Tony Smith, will be a special guest. Dinner and childcare will be provided. This Sat., Aug. 8, from 2-8 PM at United Lutheran Church, 8800 Fontaine St., Oakland. RSVP &/or ?? contact Jean Gregory at (510) 635-8838 or joewoengreg@yahoo.com
DRAMA VOLUNTEERS NEEDED FOR FALL MPC PRODUCTION!
This fall the MPC Drama Committee and Poets and Storytellers will present "The Apple of Nobody's Eye," The Trials & Tribulations of an Inner City School Teacher. We're hoping to find a few volunteers willing to devote some time toward bringing these stories to life. Please consider signing on in one of the following capacities:
Producer/Stage Manager. A key position that ensures all aspects of the production are coordinated and will meet various deadlines. Also troubleshoots when problems arise. Some time needed right away for planning, then busy from late August through end of September.
Director :Filled .
Technical Director: Filled
Light and Sound crew: Be available for training this summer, then rehearsals from mid-September to shows at end of that month.
Set Crew: Work with director to create simple set.
Music Editor: Help with technical side of recording music and sounds for the production.
Publicity: Help design materials and publicity campaign. August and September.
Tickets/Box Office/Refreshments: Last week of September.
Please reply to Bob Saltz at 510.339.7150 or saltz@prev.org. You can also leave your name with someone at MPC's office. Please ask for further information if you have any interest at all
————————————-
————————————-
Thursday, August 6
6:30PM TECHNOLOGY WORKING GROUP MPC Office
7:30PM ADULT ED Thornhill Room
7:30-8:30PM WOMENS' CHOIR REHEARSAL (for Sunday, Aug 9) Sanctuary
August 6-Aug 15 YOUTH GROUP MISSION TRIP
Friday, August 7
12:15PM ALANON MEETING Thornhill Room
Saturday, August 8
9:30-11:00AM FACES OF GOD Room 10
12:45PM RESULTS TELECONFERENCE Room 10
Sunday, August 9
10:00-11:00AM CELEBRATION Sanctuary
11:00AM-12:00PM FAMILY HOUR Family Room
11:20AM TOWN HALL MEETING Sanctuary
Monday August 10
7:00-7:45PM MEN'S CLUB Thornhill Room
————————————-
————————————-
Blessings,
Christine Peterson
Associate in Communications and Logistics
Montclair Presbyterian Church
5701 Thornhill Drive
Oakland, California 94611
510/339-1131
Christine@mpcfamily.org
————————————-
————————————-
MONTCLAIR PRESBYTERIAN CHURCH
Office Hours: Tuesday – Friday, 9:00AM-4:00PM
Rev. Karen Stokes, Pastor: On Sabbatical.
Leonard Nielson, Interim Head of Staff: Available by appointment.
Susan Hunn, Associate for Children & Youth: Office hours Tues-Thurs 9:30-2:30 pm
Christine Peterson, Associate in Communications & Logistics: Office hours Tues. – Friday 9:00-4:00pm
Rebecca Herrero, Associate in Life & Programs: Drop-in office hrs Tues/Thurs 1:00-3:00PM, other times by appt.
Kim Rankin, Associate in Music
Marcia Roy, Organist
Gil & Maria Chiguila, Caretakers
Rev. John Hadsell, Theologian in Residence
Rev. Kathy Ray, Parish Associate