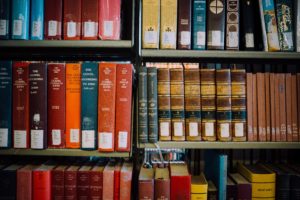 The library focuses on the church's future with knowledge drawn from contemporary theology and ethics. It emphasizes rising women's voices, growing interfaith connections, and issues of science.
The library contains approximately 60 volumes, which may be checked out by filling out a
circulation card.
The library is located in the Family Room, near the Book Depot.
A list of the Hadsell Futures Library books is included below. You can also download the list in PDF format.
Hadsell Futures Library Master List
LAST NAME
FIRST NAME
TITLE
PUBLISHER
Abraham
K C Chrislava
Transforming Vision
Samithi
Allan
Diogenes
Christian Belief in a Postmodern World
Westminster John Knox Press
Barbour
Ian G
*When Science Meets Religion
HarperOne
Barks
Coleman
Soul Fury
HarperOne
Bass
Diana Butler
Christianity for the Rest of Us
Harper SF
Bass
Diana Butler
Christianity After Religion
HarperOne
Bell
Rob and Kristen
The ZimZum of Love
HarperOne
Bell
Rob
What We Talk About When We Talk about God
HarperOne
Bell
Rob
Love Wins
HarperOne
Borg
Marcus
Jesus
Harper
Borg
Marcus
The Heart of Christianity
HarperOne
Borg
Marcus J
Convictions: How I Learned What Matters Most
HarperOne
Borg
Marcus J
Speaking Christian
HarperOne
Brown-Taylor
Barbara
Learning to Walk in the Dark
HarperOne
Brown-Taylor
Barbara
An Altar in the World
HarperOne
Buehrens
John; Rebecca Parker
A House for Hope
Beacon Press
Coehlo
Paulo
The Alchemist (25th Anniversary Edition)
HarperOne
Collins
Francis S
*The Language of God
Free Prees
Conlon
James
*From the Stars to the Street
Novallis
Cox
Harvey
The Future of Faith
HarperOne
Cox
Harvey
How to Read the Bible
HarperOne
Crossan
John Dominic
How to Read the Bible and Still be a Christian
HarperOne
Crosson
John Dominic
Jesus
Harper Collins
Daniel
Ben
The Search for Truth about Islam
Westminster John Knox Press
Ehrman
Bart D
Jesus Interrupted
HarperOne
Emerson
Rev James
Forgiveness: Key to the Creative Life
Author House
Enns
Peter
The Bible Tells Me So
HarperOne
Felton
David, and Jeff Proctor-Murphy
Living the Questions
HarperOne
Finkelstein
Israel
The Bible Unearthed
Touchstone/Simon&Shuster
Garber
Steven
The Fabric of Faithfulness
IVP Books
Gomes
Peter J
The Good Book
Wm Morrow & Co
Gottlieb
Roger S
Spirituality
Oxford Press
Guder
Darrell L
Missional Church
Wm Eerdmans
Hamilton
Adam
Making Sense of the Bible
HarperOne
Hanh
Thich Nhat
Silence: the Power of Quiet
HarperOne
Hanh
Thich Nhat
The Art of Communicating
HarperOne
Healy
Anthony E
The Postindustrial Promise
Rowman & Littlefield
Hoke
Chris
Wanted: A Spiritual Pursuit
HarperOne
Hunt
Rex A E, John W H Smith)
Why Weren't We Told?
Polebridge Press
Jones
Alan
Reimagining Christianity
Wiley
Jones
Tony
Did God Kill Jesus?
HarperOne
Laughlin
Paul Alan
Getting Oriented
Polebridge Press
Levenson
Jon D
Inheriting Abraham
Princeton U. Press
McLeish
Tom
*Faith and Wisdom in Science
Oxford U Press
Mead
Loren
The Once and Future Church
Alban Institute
Mead
Loren B
Financial Meltdown in the Mainline? (Alban)
Rowman & Littlefield
Meyers
Robin R
Saving Jesus from the Church
HarperOne
Micklethwait
John, Adrian Wooldridge
God is Back
Penguin Press
Nelson-Pohlmeyer
Jack
Jesus Against Christianity
Trinity Press Internatinal
Newbigin
Leslie
The Gospel in a Pluralist Society
Wm Eerdmans
Nouwen
Henri
Discernment
HarperOne
Nouwen
Henri
Spiritual Formation
HarperOne
Nouwen
Henri
Spiritual Direction
HarperOne
Ottati
Douglas F
Theology for Liberal Protestants: God the Creator
Wm Eerdmans
Pagels
Elaine
Beyond Belief
Random House
Pagels
Elaine
Gnostic Gospels
Vintage
Peters
Ted, Martinez Hewlett
*Can You Believe in God and Evolution?
Abington Press
Polkinghorne
John
*Faith, Science & Understanding
Yale U Press
Polkinghorne
John
*Quarks, Chaos and Christianity
Crossroads Books
Rauschenbusch
Walter
A Theology for the Social Gospel
Martino Fine Books
Regele
Mike, Mark Schulz
Death of the Church (Alban)
Zondervan
Rendle
Gilbert R
Leading Change in the Congregation (Alban)
Rowman & Littlefield
Robinson
Duke
A Middle Way
Self-published
Sagan
Carl
*The Varieties of Scientific Experience
Penguin Press
Shaull
Richard
The Reformation and Liberation Theology
Westminster John Knox Press
Silberman
Neil Asher
The Bible Unearthed
Touchstone/Simon&Shuster
Song
C S
The Compassionate God
Orbis Books
Spong
John S
Jesus for the Non-religious
HarperOne
Spong
John S
Here I Stand
Harper SF
Spong
John S
A New Christianity for a New Wprld
HarperOne
Sweet
Allen & C. Frances
*The Unity of Truth
1 Universe Inc
Tamez
Elsa
Struggle for Power in Early Christianity
Costa Rica Orbis
Tan
Chade-Meng
Search Inside Yourself
HarperOne
Tickle
Phyllis
The Great Emergence
Baker Books
Tutu
Desmund, Mpho Tutu
The Book of Forgiving
HarperOne
Valliant
George E
*Spiritual Evolution
Broadway Books
Vermes
Geya
Jesus in His Jewish Context
Fortress Press
Waetjin
Herman C
A Reordering of Power
Wipf&Stock
Wallis
Jim
God's Politics
HarperOne
Wills
Gary
What Jesus Meant
Penguin Press
Wink
Walter
Just Jesus
Image Catholic Books
Winner
Lauren F
Wearing God
HarperOne
Woods
C Jeff
Congregational Megatrends (Alban)
Rowman & Littlefield
The Poverty and Justice Bible
American Bible Society
*Indicates book on science and religion
Last updated: April 4, 2017