Join author Anne Lamott at MPC on Tuesday, May 2nd at 7pm when she presents her new book Hallelujah Anyway: Rediscovering Mercy. Her latest work explores the presence of mercy in our lives: often forgotten, but still powerful and potentially life-changing, if we can learn to embrace it. We hope you can join us for what is sure to be an inspiring and thought-provoking talk.
This talk is free with the purchase of Hallelujah Anyway from Great Good Place for Books in Montclair. You can buy the book in advance at the bookstore, or at the event itself. Bookstore representatives will be at MPC starting​ around 6:15.
**Thank you for supporting local bookstores!**
About Hallelujah Anyway: Rediscovering Mercy
"Mercy is radical kindness," Anne Lamott writes in her enthralling and heartening book, Hallelujah Anyway. It's the permission you give others-and yourself-to forgive a debt, to absolve the unabsolvable, to let go of the judgment and pain that make life so difficult. […] In Hallelujah Anyway: Rediscovering Mercy, Lamott ventures to explore where to find meaning in life. We should begin, she suggests, by "facing a great big mess, especially the great big mess of ourselves." It's up to each of us to recognize the presence and importance of mercy everywhere-"within us and outside us, all around us"-and to use it to forge a deeper understanding of ourselves and more honest connections with each other. While that can be difficult to do, Lamott argues that it's crucial, as "kindness towards others, beginning with myself, buys us a shot at a warm and generous heart, the greatest prize of all." (source: Penguin Random House)
About Anne Lamott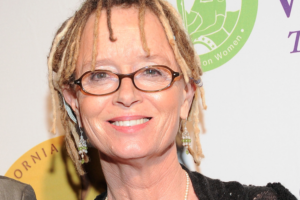 Anne Lamott is the New York Times bestselling author of Help, Thanks, Wow; Small Victories; Stitches; Some Assembly Required; Grace (Eventually); Plan B; Traveling Mercies; Bird by Bird; Operating Instructions, and the forthcoming Hallelujah Anyway. She is also the author of several novels, including Imperfect Birds and Rosie. A past recipient of a Guggenheim Fellowship and an inductee to the California Hall of Fame, she lives in Northern California. (source: Penguin Random House)
Parking will be available in the lot at nearby Thornhill Elementary School (see below); more parking info and directions info are available on MPC's parking and directions page.
Author photo by Araya Diaz/Getty Images