Click "View Post" below to see the ways to get involved.
FRUITVALE FOOD PANTRY
We distribute groceries to needy people from the community from 11-12 the 2nd and 4th Saturdays of each month at Fruitvale Presbyterian Church, 2735 MacArthur, Oakland.  We buy food from the food bank and also accept donations of food or cash.
To participate, contact Deborah Brooks 510-531-2822 or
debbrooks61@gmail.com
  Donations of cash to the
food bank
are most welcome, since they can make the funds go further, but we also accept donations of food.  Click
HERE
for the list of what is most needed.
Pictures from the December distribution where the MPC youth served tea/coffee/sandwiches to those waiting for groceries and then helped with the distribution.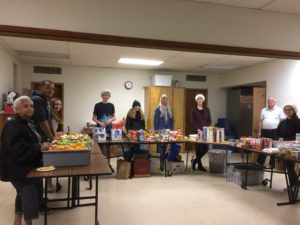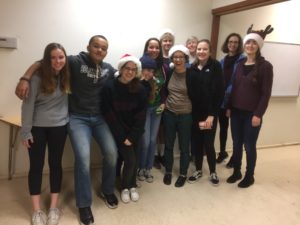 The St. Mary's dinners 
The two remaining evening meals – Wed., February 8 and Wed., March 1, are filled at this time, but if someone wants to participate, please contact:  Susanne Lea at
the two remaining meals – Wed., February 8 and Wed., March 1, are filled at this time, but interested persons should contact Susanne Lea at 510-318-0579 or susannelea44@gmail.com
St. Mary's Center in Northwest Oakland offers comprehensive senior services, including a homeless program that features winter shelter and an array of related services and activities. It is the only winter shelter for persons 55 and older in Northern California. The winter shelter program offers meals provided by various community organizations, churches, and individuals. Volunteers prepare and serve the food and visit and eat with the residents. The evening usually begins with a brief circle/introduction time and blessing.
COLLEGE AVE PRESBYTERIAN CHURCH FEEDING THE HOMELESS
Every Friday night, there is a meal for the homeless at College Ave. Presbyterian Church, Oakland.  MPC Youth coordinate, provide and serve this meal several times a year.  The next event is Friday February 24.  Cooks/shoppers ahead of time and preparers, servers, cleaning crew on those evenings are needed.  Contact Talitha at 510-339-1131 or
talitha@mpcfamily.org
 to participate.
The Hunger Action Committee (HAWG)
Is made up of people concerned about feeding people and addressing the causes of hunger in our society.
We meet quarterly at 2pm on a Thursday.  Contact Deborah Brooks
debbrooks61@gmail.com
if you'd like to come to any of our meetings. All are welcome.