In the midst of this week of great cognitive dissonance, in the days between celebrating the Rev. Dr. Martin Luther King Jr. and inaugurating our 45th president, in these short days and long dark rainy nights, I have found a new joy and blessed distraction: creating mosaic art.
When we were preparing the manse for move-in, our contractor and adviser, Leonard Nielsen, offered us an option: either spend a bit of money on a plain and ordinary backsplash, or save money and create a fancier backsplash by doing the work ourselves. I opted for the adventure, and after some consultation with Jane VanderVeer I set out to finish our bathroom and kitchen. I bought some materials, but I have been relying a lot on broken plates and cups, rocks, shells, and seaglass.
I find a certain kind of consolation in doing this work. The act of smashing pottery to bits can be cathartic, of course, especially when certain Cabinet nominations arouse one's political indignation. But the part that follows is even better. I love to pick up what is broken, to gather the scraps, and to use what might be discarded to create something new. This work shares a sacred kinship with quilting, or making Stone Soup, or this Bible verse:
… God chose what is foolish in the world to shame the wise; God chose what is weak in the world to shame the strong; God chose what is low and despised in the world, things that are not, to reduce to nothing things that are, so that no one might boast in the presence of God. (1 Cor 1:27-29)
When life hands us broken pieces – or when it takes our most precious things and cruelly smashes them – trusting in the love of the One who was "broken for you," I pray that we might find the Creator's inspiration in use, and go ahead and make some art with it.
Every Blessing,
Talitha
PS: a glimpse at our as-yet-ungrounted bathroom mosaic, done by me, Emma Carray, and Linnea Gullikson.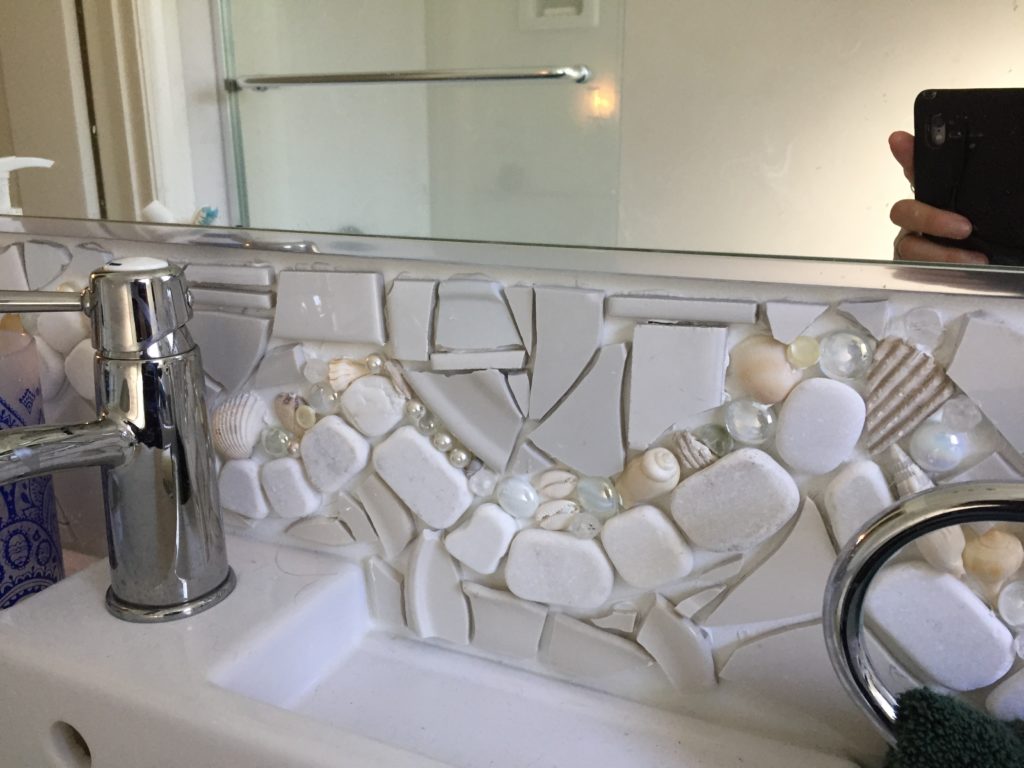 PPS: I'm still taking donations of tiles & broken pottery. We need neutral (not bright) shades of white, grey, brown, green, and blue. You can pre-smash them for me if you feel the same way I do about the Cabinet.