Join Nancy Jo Sales at MPC on Tuesday, Feb 7th at 7pm when she presents her book American Girls: Social Media and the Secret Lives of Teenagers. This work, the result of interviews with over 200 teenage girls, examines the challenging and often disturbing effect of social media on their lives. We hope you can join us for what is sure to be an intriguing and informative talk.
This event is free and open to the public.
About Nancy Jo Sales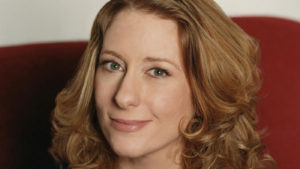 NANCY JO SALES is an award-winning journalist and author who has written for Vanity Fair, New York, Harper's Bazaar, and many other publications. She is known for her reporting on youth culture and crime and for her profiles of pop-culture icons. She won a 2011 Front Page Award for Best Magazine Feature and a 2010 Mirror Award for Best Profile, Digital Media. Her 2013 book, The Bling Ring: How a Gang of Fame-Obsessed Teens Ripped Off Hollywood and Shocked the World, tells the true story behind the Sofia Coppola film The Bling Ring, which was based on Sales s 2010 Vanity Fair piece The Suspects Wore Louboutins. (source: Indiebound)
Photo credit: Jayne Wexler
About the book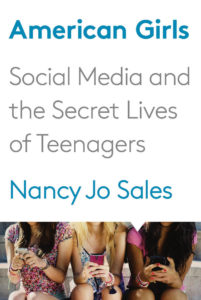 With extraordinary intimacy and precision, Sales captures what it feels like to be a girl in America today.From Montclair to Manhattan and Los Angeles, from Florida and Arizona to Texas and Kentucky, Sales crisscrossed the country, speaking to more than two hundred girls, ages thirteen to nineteen, and documenting a massive change in the way girls are growing up, a phenomenon that transcends race, geography, and household income.American Girls provides a disturbing portrait of the end of childhood as we know it and of the inexorable and ubiquitous experience of a new kind of adolescence one dominated by new social and sexual norms, where a girl's first crushes and experiences of longing and romance occur in an accelerated electronic environment; where issues of identity and self-esteem are magnified and transformed by social platforms that provide instantaneous judgment. What does it mean to be a girl in America in 2016? It means coming of age online in a hypersexualized culture that has normalized extreme behavior, from pornography to the casual exchange of nude photographs; a culture rife with a virulent new strain of sexism and a sometimes self-undermining notion of feminist empowerment; a culture in which teenagers are spending so much time on technology and social media that they are not developing basic communication skills. From beauty gurus to slut-shaming to a disconcerting trend of exhibitionism, Nancy Jo Sales provides a shocking window into the troubling world of today's teenage girls. (source: Indiebound)
Parking will be available in the lot at nearby Thornhill Elementary School (see below); more parking info and directions info are available on MPC's parking and directions page.